ATI Movie Makeovers - The Matrix We all enjoy entertainment, but we should never enjoy entertainment at the expense of our godly standards. ATI Movie Makeovers takes popular Hollywood blockbusters and infuses them with Biblical principles and character development.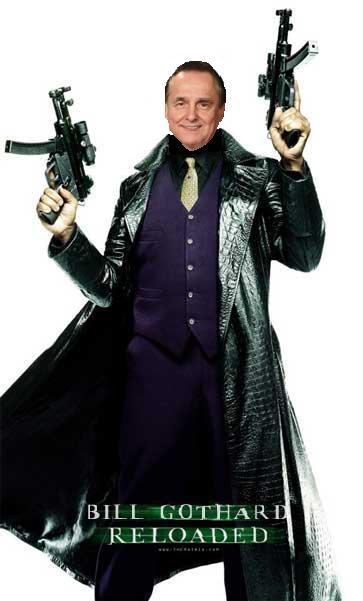 The ATI Matrix
:
Breaking down strongholds in a theater near you.
Thomas Anderson is a young man who is addicted to rock music, develops friendships with fools, and exhibits poor character at work.
He is contacted by Morpheus (played by Bill Gothard), a radical youth group leader. Morpheus promises to open Mr. Anderson's eyes to the real work and give him a new approach to life, offering him a red pill and a blue and white pill to signify his choice. Mr. Anderson takes the blue and white pill and the adventure begins.
Morpheus takes Anderson to his training lair, a combination command center, juvenile resort and encouragement conference location. Mr. Anderson must undergo significant deconstruction to prepare him for his ministry. He learns that the real world is quite different that the one he knew: it is full of principles, standards, convictions and steps of action. Mr. Anderson learns these principles by having seminars downloaded into his brain in 32-hour segments.
The make-believe world that he's been in--The Matrix--was created by worldliness, reprobation and apostasy. The enemy gains access to people's minds by building strongholds and they are forever enslaved to these evil spirits.
Once Mr. Anderson has been reprogrammed, Morpheus takes him back into the Matrix to redeem others from the bondage of rock music, movies, worldly dress, and other strongholds. Morpheus infiltrates cities by talking to government leaders, school children, and business leaders about character.
Mr. Anderson begins to believe that he is "the one": chosen by God for unique purposes. He leads thousands out of bondage.
The spirits of Worldliness and Bondage are not pleased with Anderson's successful ministry and they send Agents to deal with him. These Agents are unclean spirits capable of inhabiting any person or inanimate object (such as Cabbage Patch dolls).
Mr. Anderson must fight many battles with these agents and their tormentors. Luckily, he is equipped with tools such as Prayer Targets and Meditation. In the climatic battle scene, Mr. Anderson defeats the evil spirits, overcomes temptation, and successfully elevates himself to a Higher Plane of spirituality.
*Special thanks to graphic genius JB.